DreEX0045309 @ danRer10
Exon Skipping
Description
muscleblind-like splicing regulator 2 [Source:ZFIN;Acc:ZDB-GENE-030131-9582]
Sequences
3' ss Seq
TCGCTGCCTGCTATTAAAAGACT
Seq C1 exon
GTGTGCCGTGAGTTTCAGCGGGGTAACTGCGCGCGCGGCGAGACCGACTGCCGCTTCGCCCATCCTAGCGACAGCCCGATGATCGACACGAGCGACAACACGGTCACGGTGTGCATGGACTACATCAAGAGCCGCTGCTCACGCGAGAAGTGCAAGTATTTCCACCCTCCAGCGCACCTGCAGGCCAAGATCAAAGCAGCGCAGCATCAGGCCAACCAGACCGCCGTCGCAGCGCAGGCCGCCGCTGCAGCCATG
Seq A exon
ACTCAGTCGACTGCCAAAGCAATGAAGCGACCCCTCGAGGCATCTGTAGATCTG
Seq C2 exon
GCGTTTCCGCATGGAGTCCTGCAGCCCCTACCAAAGAGACCAGCACTAGAAAAGAGTAACGGGGCCAGCACGCTCTTCAACCCCAGTGTCTTGCACTACCAACAGGCTTTGGCCAGCGCACAGCTTCAGCAGCCCACCGCTGCGTTCTTTCCCACAG
VastDB Features
Vast-tools module Information
Secondary ID
ENSDARG00000018460_MULTIEX1-5/5=4-C2
Mappability confidence:
100%=100=100%
Protein Impact
Alternative protein isoforms (Ref)
No structure available
Disorder rate (disopred):
C1
=0.210
A
=1.000
C2
=0.759
Domain overlap (PFAM):
C1:
PF149201=MTBP_C=FE(55.6=100),PF0064219=zf-CCCH=PD(81.5=25.9)
A:
PF149201=MTBP_C=FE(11.3=100)
C2:
PF149201=MTBP_C=PD(0.7=1.9)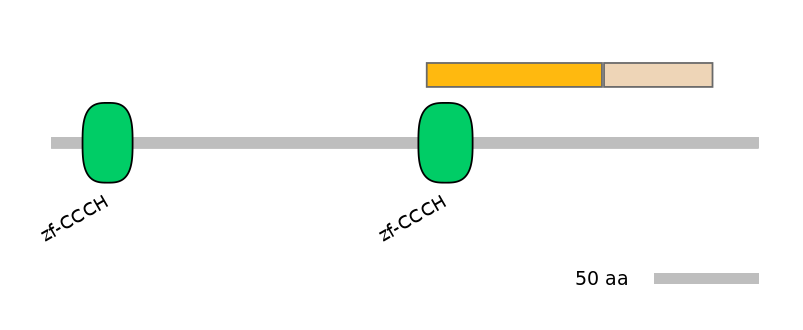 Other Inclusion Isoforms:
Primers PCR
Suggestions for RT-PCR validation
Functional annotations
There are 2 annotated functions for this event
Inferred from MBNL1: The exon 5 and 6 regions are both needed to control the nuclear localization of MBNL1
The presence of alternative ex.54nt always significantly elevated MBNL1 and MBNL2 protein levels (_2.7 and _4.0-times, respectively). There were marginal changes of the GFP-MBNL level for constructs carrying ex.36nt (_1.3-times) and ex.95nt (_0.8-times). There were no significant differences between the activities of the analyzed proteins for the majority (67%) of AS events. However, these exons might have either a positive or negative effect on some specific AS events (Figure 5A and C). Interestingly, exOFF events predominated in AS events with a negative effect of ex.36nt (95%; P = 0.002) and a positive effect of ex.95nt (90%; P = 0.010). All together, these data indicate that the presence of sequences encoded by these alternative exons can significantly modulate MBNL splicing activity, but this regulation depends strongly on the targeted RNA.
GENOMIC CONTEXT
[
edit
]
INCLUSION PATTERN
[
edit
]
---